Russia is a 'servile generation', says Nobel Prize winner in disputed interview
Comments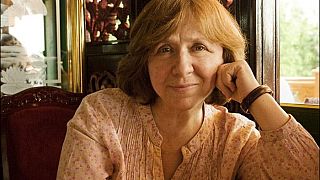 Nobel Literature Prize winner Svetlana Alexievich has become embroiled in a controversy following a hard-hitting interview which she asked not to be published.
Alexievich, an investigative journalist who was born in Ukraine but grew up in Belarus and writes in Russian, accused her interviewer of being a "propagandist" and demanded her words were not make public. However, a version of her responses in which she sharply criticised Vladimir Putin's Russia later appeared on the news agency Regnum.
A video transcript of the exchange appeared to show the text had been edited but that did not diffuse the row over its content.
Russia "is a very servile generation, completely unfree people, a lot of Putin's fans, it's hard to say when Russia turns into a free country," she noted.
Defending Kyiv's decision to restrict non-Ukrainian langauge programmes on television as well as the dismantling of Soviet monuments, Alexievich said: "This is resistance to Russia. This is the only way to make a nation. You, the Russians, were even worse. For over two hundred years. "
She backed restrictions on the use of Russian in official settings as necessary "to cement the nation."
The use of Russian in official business in Ukraine is highly controversial. A 2012 law, introduced by the pro-Moscow Party of the Regions, gave it a special status for use in in some areas. The law was later repealed but its validity is still being studied in the courts.