FARC has now 'decommissioned its weapons', Colombia's president tells Euronews
Comments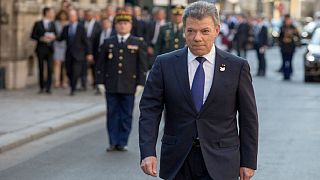 The peace process in Colombia has reached an important new milestone. President Juan Manuel Santos explained to Euronews's Isabelle Kumar in Paris that the paramilitary group, the Revolutionary Armed Forces of Colombia, known as the FARC, has now decommissioned its weapons.
President Santos did admit that there was no way to guarantee all the arms had been decommissioned but sought to emphasise that in comparison to other similar processes worldwide a far higher number of weapons had been put out of service.
Ceremonies are to be held in the coming days in Colombia to mark this important moment for the country. The civil conflict with the FARC has lasted more than half a century, displaced some seven million people and according to some estimates killed 260,000 people.
President Santos signed an historic peace agreement with the FARC in November 2016. It is a deal which has gained the leader international recognition, most notably the Nobel Peace Prize. Despite popularity abroad, Santos has faced fierce criticism back home.
Those opposed to the accord argue Santos has been too lenient on the paramilitary group in a bid to gain a peace deal at all costs. There is also concern that with a presidential election next year in which Santos cannot stand after two terms as president an opposition win could mean the end of the deal. For Santos the peace process has gone too far for this to ever be possible.
President Santos is on an official visit to France where he met earlier with French Prime Minister Emmanuel Macron – his overriding message that with peace, Colombia is open for business. He dismissed concerns that other paramilitary groups would step into the vacuum created by the FARC insisting instead that this was a unique opportunity for economic growth and investment in Colombia.