Assets worth 280 billions seized in Rome anti-Mafia swoop
Comments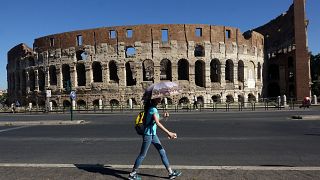 Carabinieri police in Rome have seized assets worth about 280 million euros in a major anti-mafia operation.
Twenty-three people suspects are accused of belonging to criminal gangs involved in criminal activity: extortion, loan-sharking, money laundering and fraud.
Officers have seized assets from bars, restaurants, and arcades.
Some 46 entertainment venues popular with VIPs around Rome have also also been seized as part of the operation.
During the country's economic downturn, up-market eateries have been increasingly targeted by mafia gangs as an easy way to launder money.
It is estimated that organised crime gangs own 5,000 restaurants across the country, earning up to 15 billion euros annually from the food industry.
Also in Rome, the so-called Mafia Capital case is due to be concluded next month.
MPs, bureaucrats and businessmen are alleged to have worked with mobsters to rig public tenders on everything from creating refugee centres to rubbish collection.