Local council chief resigns over Grenfell Tower fire
Comments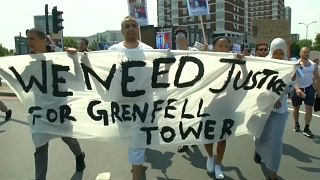 The Chief executive of Britain's Kensington and Chelsea council has resigned just hours after Prime Minister Theresa May criticised the council's handling of last week's Grenfell Tower fire.
Nicholas Holgate said Local Government Minister Sajid Javid had asked him to resign. Javid has not yet confirmed whether he did or not.
In a statement Holgate said: "There is a huge amount still to do for the victims of the fire, requiring the full attention of this Council and many others. If I stayed in post, my presence would be a distraction. "
Statement from RBKC</a> chief exec Nicholas Holgate who has quit after criticism of the council's response to the Grenfell Tower disaster. <a href="https://t.co/nRzPcPVuWJ">pic.twitter.com/nRzPcPVuWJ</a></p>— Press Association (PA) June 21, 2017
"Serving the families so desperately affected by the heart-breaking tragedy at Grenfell Tower remains the highest priority of the council," he added.
At least 79 people have been confirmed dead after the fire engulfed the 24 storey tower building in west London. The death toll is expected to rise as the remains of more victims are identified.
As the funerals of the victims continue, Prime Minister Theresa May's minority government is fighting to re-gain credibility amongst the electorate.
The divide between rich and poor has also become more obvious with the fire revealing the neglect in social housing in what is the country's richest area.
On Thursday May told parliament that recent tests have found that three out of around 600 tower blocks contain combustible cladding similar to the type believed to have helped the fire spread so quickly in Grenfell Tower.