Rare moment of unity as UK parliament joins for minute's silence
Comments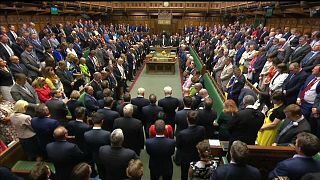 The UK government may be in disarray, but a rare moment of unity was seen in the chamber of the House of Commons when MPs joined together in a moment of silence to honor the victims of recent atrocities in Britain.
Despite the recent political turbulence, MPs from all sides of the chamber observed a minutes silence before the day's proceedings after the Queen's opening of parliament.
Speaker of the House of Commons John Bercow began proceedings by suggesting the minute of silence.
He said: "Let us begin by standing for a minute of silence as we remember the terrible events which have occurred in Manchester and at London Bridge, Grenfell Tower, and Finsbury Park."
Due to the snap election, there has not been a meeting of parliament since before the suicide bombing at Manchester Arena.
Since then, a further three atrocities have occurred in London, including two terror attacks and a tower block fire.