Mourinho says Spanish tax fraud claims are news to him
Comments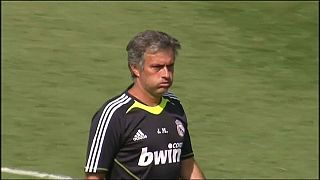 Jose Mourinho says he has nothing to hide after being accused again of tax fraud by Spanish authorities.
It's claimed he owes some 3.3 million euros from his time as coach at Spanish champions Real Madrid.
But, Mourinho, who's now manager at Manchester United, has released a statement of his compliance.
According to the papers published through his agent, the Portuguese says he already settled a previous claim relating to a 2014 inquiry over income from image rights and so far he's received no official indication that he's subject to a fresh investigation.
But prosecutors say they have found some of the information presented in the settlement was incorrect – "with the aim of obtaining illicit profits"
The claims against Mourinho come amid a lengthening list of tax fraud cases involving football stars in Spain.
Real Madrid's talismanic player, Cristiano Ronaldo, has been called to testify next month over allegations that he hid income from tax authorities between 2011 and 2014.