Migrant smugglers go on trial in Hungary over lorry tragedy
Comments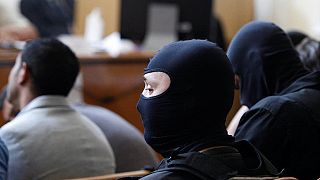 Eleven men have gone on trial in Hungary over the deaths of 71 migrants, left to suffocate in the back of a refrigerated lorry abandoned by the side of an Austrian motorway.
The detainees are all charged with human trafficking and torture and have been in custody for two years.
Four of them, including a 30-year-old Afghan man thought to be ringleader of the gang and a 26-year-old Bulgarian truck driver, stand accused of "murder with particularly cruelty".
The group are thought to have been part of a larger network believed to have smuggled over a thousand people into Germany and Austria at the height of Europe's migrant crisis in 2015.
The gruesome discovery of the truck's grisly cargo that year marked a turning point in the crisis, highlighting the plight of refugees as they struggle to find sanctuary.
It indirectly led to the decision to open borders in Europe to let migrants continue on their way to Germany.