Paris attack driver 'had firearms licence' despite being known to police
Comments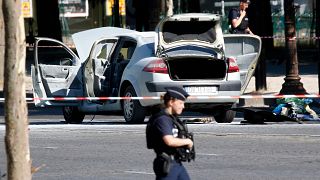 The driver who rammed his car into a police van in the busy heart of Paris on Monday had a firearms licence despite being on France's terror watch list for suspected radicalism.
According to reports quoting his father, the attacker, who drove a car laden with hand guns, gas canisters and a Kalashnikov rifle at police, had been issued a sporting licence for firearms and had registered a weapon before being put under surveillance in 2015.
Paris: 4 family members detained after Champs-Elysees attackhttps://t.co/W1IsSE6SZmpic.twitter.com/CjGx4oU40c

— CP24 (@CP24) June 20, 2017
As Paris returns to the daily grind, questions have risen over why the man's permit was not rescinded despite him being known to police.
Authorities in France took four of the man's family members into custody after questioning at their home in the Paris suburbs.
Man rams car into police vehicle near Champs-Elysees in Paris https://t.co/2dudD2sBfepic.twitter.com/0NFZuoIC4C

—

TIME

(@TIME) June 19, 2017
The man, named as 31-year-old Adam Dzaziri, rammed his car into a gendarmerie van on the busy Champs Elysees, close to the scene of an attack in April in which a policeman was shot dead.
Dzaziri was killed during the incident, although it was not immediately clear how he died.
Initial reports suggested that the man's car burst into flames after hitting the gendarmerie van, after which police had to break windows to drag the unconscious driver from the vehicle.
Images of the man's body lying on the ground close to the scene emerged shortly after the attack, and he was confirmed to have been the only casualty.
France's anti-terror prosecution service has launched an investigation into the attack.