Helsinki police 'foil terror plot'
Comments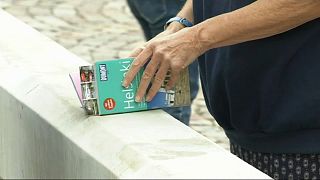 Finnish Police say they have foiled a terrorist attack targetting a church in Helsinki.
The Temppeliaukio Church, a popular tourist attraction in the heart of the city built directly into a solid piece of stone, is less than a kilometer from the Finnish parliament and supposedly was a planned target for terrorists.
Finland's Interior Minister Paula Risikko said: "The Finnish Security Intelligence Service (Supo) has made an assessment that the threat of terrorism has increased. A 2015 assessment indicated a high risk of a single terror attack and we have now elevated the general threat level. This means that while we already were very well prepared, now we are even more so."
Helsinki police sent several units to patrol near the so-called Rock church to try to apprehend a suspect in the area, although it remains unclear whether any arrests were made.
Supo says it has become aware of more serious terrorism-related plots in Finland in recent months.
The Nordic country has not witnessed attacks on the scale of other European states, however concern has increased in Helsinki following recent incidents in neighboring Russia and Sweden.