Nazi relics hidden behind sliding bookcase in Argentina
Comments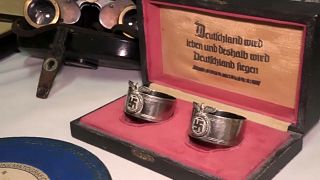 Behind a secret door concealed behind a sliding bookcase in a suburb of Buenos Aires, Argentinian police discovered a huge hoard of Nazi relics, some possibly connected to Hitler himself.
The find, during a raid linked to stolen artwork on June 8, is the biggest ever of its kind in the country and recalls the days when the country was a haven for high ranking German officials fleeing European justice.
Among the cache were guns, apparel, ceremonial knives, military decorations, statues of Hitler and other Nazi symbols, trinket boxes adorned with the Nazi 'Imperial Eagle, a Nazi sundial and even a silver Ouija board.
A través de PFAOficial</a> incautamos objetos históricos de origen asiático y piezas con simbología nazi destinadas al mercado negro. <a href="https://t.co/CO6lyTTFc8">pic.twitter.com/CO6lyTTFc8</a></p>— Ministerio Seguridad (MinSeg) June 9, 2017
Some of the most disturbing items were propaganda to indoctrinate children such as harmonicas and puzzles.
Police say one of the most compelling pieces of evidence of the historical importance of the find is a photo negative of Hitler holding a magnifying glass similar to those found in the boxes.
"We have turned to historians and they told us it is the original magnifying glass. We are reaching out to international experts to deepen" the investigation, said the head of Argentina's Federal Police.
"Our first investigations indicate that these are original pieces, they were (found) with the original photographs that prove this, it was the method by which they (the memorabilia) could be commercialised, showing that they were used by the horror, by the Fuhrer. There are photos of him with the objects", Argentine Security Minister Patricia Bullrich told the Associated Press.
Argentinian Federal Police and agents with the international police force Interpol will now work to determine how the artefacts entered the country. Argentine investigators and Jewish community leaders hypothesise they were most likely brought from Germany by high-ranking Nazi or Nazis after World War II when many fled to escape punishment for war crimes.
Josef Mengele, an SS officer and physician in the Auschwitz concentration camp known as the 'Angel of Death' for performing deadly human experiments on prisoners, fled to Argentina and lived in Buenos Aires for a decade while leading members of Hitler's Third Reich were put on trial for war crimes. He died in 1979 in the Brazilian city of Bertioga after having a stroke while swimming.
While police in Argentina did not name any high-ranking Nazis to whom the objects might have originally belonged, Bullrich noted there were medical devices.
"There are objects to measure heads that was the logic of the Aryan race," she said.