Iran fires missiles at ISIL base in Syria
Comments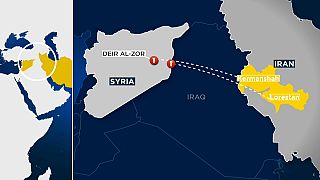 Iran says it has fired missiles at an Islamic State base in Syria in retaliation for attacks by the extremist group last week.
Iran fires missiles at IS in Syria to avenge Tehran attacks https://t.co/EDcWsgkRGQpic.twitter.com/pywbwh0Bb9

— Middle East Eye (@MiddleEastEye) June 19, 2017
Iran said it would also strike any groups who staged attacks on its soil.
The missile strikes hit Deir-el-Zour in eastern Syria.
The attacks in Iran killed eighteen people after gunmen stormed the parliament and attacked a shrine in Tehran last month.
Syria's six year long civil war has now evolved into an international conflict during in many nations.
The US, Britain, Russia, Israel, Saudi Arabia and Turkey have all carried out airstrikes on Syrian territory.
More than 300,000 people have been killed and the fighting has taken on a sectarian dimension as Sunni and Shiite Muslims fight each other.