Heavyweights take to the stage on final day of World Judo Tour
Comments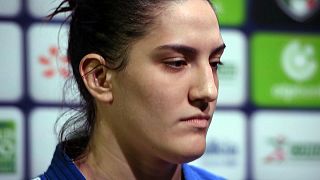 The final day of the Grand-Prix in Cancun saw the heavyweight judoka close out the competition. In the under seventy-eight kilogram category, Mayra Aguiar of Brazil was the Woman of the Day. She was competing in her first world judo tour event after the Olympic Games, where she took bronze.
After defeating Kaliema Antomarchi from Cuba, by waza ari, 2014 world champion Aguiar faced Britain's Natalie Powell in the final.
Powell was aiming for a top podium finish in Cancun after placing second in the Ekaterinburg Grand Slam earlier this year, but the Brazilian's experience proved vital, this time Aguiar winning by ippon with another clinical footsweep.
A delighted Mayra Aguiar said, "I`m really happy, it's really good to be back, I've been away from the tatami for a while without competing. Being away gave me more energy and more drive here. I`m almost 100% after the surgery. I`m really happy to come back and to come back with the gold is even better".
The men's heavyweights also put on a good show on day three as Peter Paltchik from Israel was crowned Man of the Day in the one hundred kilogram division.
Paltchik took on Great Britain's Philip Awiti-Alcaraz in the eliminations. Awiti-Alcaraz achieved bronze in 2016's Grand Slam in Abu Dhabi but Paltchik proved a step too far as he battled through to the semi-final.
Former world champion Luciano Correa from Brazil awaited him next but Paltchik was undaunted, taking the fight with ippon.
The final saw only Great Britain's Benjamin Fletcher standing in his way. Fletcher's previous best was first place in 2016's African Open in Casablanca.
But Paltchik was not to be denied his first world judo tour gold medal as he closed out the contest with waza ari.
The Israeli medallist said, "We have several training plans in the future. We will continue training hard and do specific job with tecnics and tactis and everything. I'm very excited to compete in the World Championships and we will see over there."
In the under ninety kilogram division, Spain's Nikoloz Sherazadishvili emerged to take gold. He came from a waza ari behind against Azerbaijan's Tural Safguliyev in the final, before staging a dramatic comeback by throwing for waza ari.
The Spaniard threw for waza ari again, before securing a pin to win by ippon, sparking celebrations and a first world judo event gold medal.
And the women's over seventy-eight kilogram category saw Croatia's Ivava Sutalo take home first place.
With a career-best third place finish from the Casablanca African Open earlier this year, Sutalo went up against Mexico's Melanie Bolanos in the final, who took silver in the Pan American Championships Senior in 2017.
But Sutalo excelled under pressure, throwing Bolanos for waza ari before holding down for ippon to clinch gold.