Eyewitness describes aftermath of London mosque attack
Comments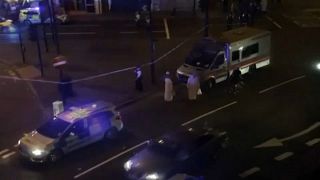 One person was killed and 10 others injured on Monday when a van collided with pedestrians near Finsbury Park mosque in north London which is being investigated by counter terrorism officers, police said.
"One man was pronounced dead at the scene," the Metropolitan police said in a statement.
The attack happened as the street was busy with Muslim worshippers who had just finished praying at Finsbury Park mosque in what is the holy month of Ramadan.
One eyewitness had this to say: "I see maybe eight to 10 people, some people lying on the floor."
Police said eight people had been taken to three separate hospitals and two people were treated at the scene for minor injuries.
A 48-year old van driver, who was detained by members of public at the scene and then arrested by police, has been taken to hospital and will be subject to a mental health assessment.