France: Terror probe launched as car rams police van on Champs Elysees
Comments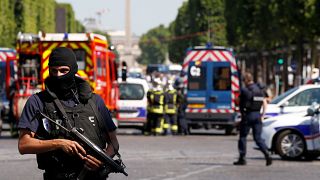 A suspected terrorist deliberately rammed his car into a police van on Paris' Champs Elysees on Monday afternoon.
Police later said the attacker was dead.
No-one else was injured in the attack, which happened only a short walk away from the Elysees presidential palace and the US embassy.
The Paris prosecutor's counter-terrorism unit has opened an inquiry into the collision, which happened as the car was overtaking the police vehicle.
Police said they found gas canisters, a Kalashnikov rifle and handguns in the car which caught fire.
French media reports said the driver was in his 30s and was on a high-risk watch list.
France has been on high security alert following a series of militant Islamist attacks in recent years, including the shooting of a policeman in an Islamic State-claimed attack on a police bus on the Champs Elysees in April.
Picture gallery
France is on high security alert after a series of terrorist incidents in recent years. A policeman was shot dead on the Champs Elysees in April in an attack claimed by the so-called Islamic-State group.