US student freed from North Korea, in a coma
Comments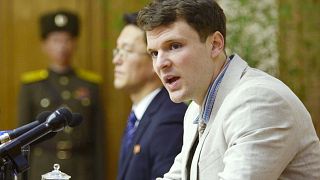 An American student detained in North Korea for 17 months, and said to be in a coma, has been released.
Otto Warmbier, 22, a University of Virginia student from suburban Cincinnati, was medically evacuated on a flight to the United States on Tuesday (June 13) evening.
"Sadly, he is in a coma and we have been told he has been in that condition since March of 2016," the parents said in a statement. "We learned of this only one week ago. We want the world to know how we and our son have been brutalized and terrorized by the pariah regime in North Korea."
U.S. Secretary of State Rex Tillerson said would not comment on his condition and said Washington continues to discuss the situation of three other detained Americans with North Korea.
The release came after Joseph Yun, the State Department's special envoy on North Korea, traveled to Pyongyang on Monday and demanded his release on 'humanitarian grounds', according to a U.S. official.
Warmbier was sentenced to 15 years of hard labor in March last year after he tried to steal a propaganda poster, according to North Korean media.
His family was told he had contracted botulism after his trial and fell into a coma after taking a sleeping pill, the Washington Post reported.
Whether the student actually had botulism – a rare and serious disease caused by a toxin and that is not typically associated with loss of consciousness – could not immediately be unconfirmed.
The washingtonpost</a> reports American Otto Warmbier, freed in North Korea, has been in a coma for more than a year <a href="https://t.co/Un1hlAlqDH">https://t.co/Un1hlAlqDH</a></p>— Bradd Jaffy (BraddJaffy) June 13, 2017