Alarm raised about cholera epidemic in Yemen
Comments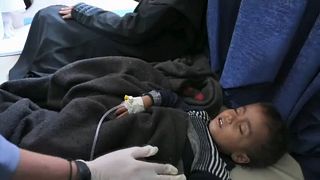 An SOS is being sent out about a deadly cholera epidemic in Yemen.
It comes from charities including the UN Children's Fund, which says half of more than 124,000 new cases in the war-torn country are children.
A quarter of the more than 920 people who have died so far in the outbreak are also children.
Officials say the disease is spreading fast and hospitals are struggling to cope.
Geert Cappelaere, the Regional Director for the Middle East and North Africa for the United Nations Children's Fund (UNICEF), said: "Every day we have at least five to ten thousand newly reported cases throughout the country.
"That's unprecedented and requires an unprecedented, massive response from the authorities here. But also from the international community."
Save the Children Fund is also warning that the infection rate has tripled in a fortnight and thousands could die in the coming months, with 300,000 cases predicted.
A lack of access to clean water and low supplies of medicine during two years of civil war have exacerbated the spread of cholera, which can kill within hours.