Rescuers save young family from building collapse in Nairobi
Comments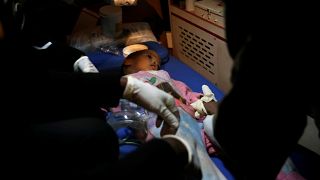 Rescuers have pulled a baby girl, a small boy and their mother from a building that collapsed in the Kenyan capital Nairobi.
The eight-storey building had been condemned and was due for demolition.
Most people left before the collapse as they noticed cracks in the foundations expanding, but two people are thought to be still inside.
Kenya suffers from several such accidents a year, and the government is trying to tighten regulations and demolish unsafe homes.