Desperate rescue underway in Kenya
Comments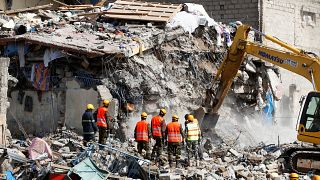 At least 15 are missing after a seven-storey building collapsed in a residential suburb of Nairobi.
Building collapses in Kenyan capital, 15 missing #Kenyahttps://t.co/QXWTETjtzspic.twitter.com/chWqn8xkm5

— Reuters Africa (@ReutersAfrica) 13 juin 2017
When did this happen?
Monday evening, during heavy rainfall.
"Basically, this was a disaster waiting to happen," said Pius Masai, the deputy director of the National Disaster Management Unit. "People were evacuated from the building but there might be some people who were left behind."
Was the collapse unexpected?
Not entirely. The authorities say they had asked already occupants to leave before the building came down in the eastern part of the Kenyan capital.
Cracks had reportedly developed in the building's structure.
Has this happened before in Kenya?
Yes. There have been recent and similar collapses.
49 people died in the middle of last year when another building collapsed during a heavy, nighttime downpour in a poor neighbourhood of Nairobi.