Praise galore: Trump's surreal cabinet meeting
Comments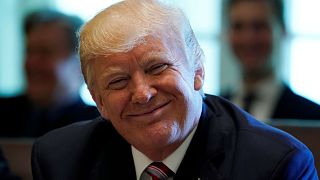 The scene looked straight out of the reality show that made him famous. Donald Trump's first formal cabinet meeting did what the president loves most: celebrating himself.
The adulation contrasted with the storm engulfing the president as he faces a range of crises, including an investigation into possible collusion between his election campaign and Russia.
One by one on Monday (June 12), Trump's Cabinet members assembled around the table spoke effusively about the US president.
"On behalf of the entire senior staff around you Mr. President, we thank you for the opportunity and the blessing that you've given us to serve your agenda and the American people," said White House Chief of Staff Reince Priebus.
Vice President Mike Pence called it "just the greatest privilege of [his] life to serve as vice president to a president who's keeping his word to the American people," while Secretary of Labour Alex Acosta thanked Trump for "keeping [his] commitment to the American workers."
'Surreal, Soviet-like': the avalanche of praise was widely commented, and Senate Democratic leader Chuck Schumer put together a mock video of his own.
"Michelle, how'd my hair look coming out of the gym this morning?" Schumer asks, turning to one staffer.
"You have great hair. Nobody has better hair than you," Michelle said.