Thousands march for LGBT rights in US
Comments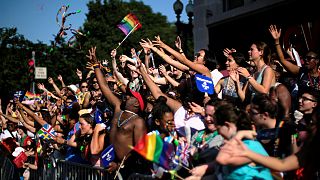 Tens of thousands have taken part in marches in the US in support of LGBT rights.
People took to the streets in Washington, Los Angeles and other cities, amid concern that rights under President Trump are under threat and he has not recognised June as Gay Pride month.
One protester from Texas, Malika Garibaldi, said: "A lot of the progress that we made in the past eight years are coming under attack: the repeal of the trans bathroom mandate that Obama put in place, the fact that we have a vice president who supported conversion therapy, which we know is harmful."
The marches come a year after 49 people died in a shooting rampage in a gay nightclub in Florida.