Kosovo election: exit poll shows PDK in lead
Comments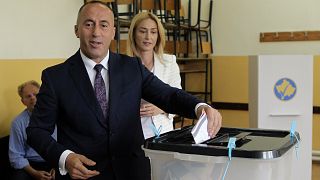 A coalition led by the Democratic Party of Kosovo (PDK) is set to come first in a parliamentary election with a win of 40 percent of the votes, an exit poll showed.
Opposition party Vetevendosje (VV) is forecast to get 30 percent of the votes, while a coalition led by the Democratic League of Kosovo (LDK) is projected to get 27 percent of the votes, Klan Kosova TV's exit poll showed.
The poll was sparked by a motion of no confidence in the government of Prime Minister Isa Mustafa for a failure to meet campaign promises.
Cast my vote with Anita!Thank you to our incredible supporters during the election campaign! Committed to secure brighter future for #Kosovopic.twitter.com/Qu4f3uAr7z

— Ramush Haradinaj (@haradinajramush) June 11, 2017
The public are hoping to elect a government that can improve the Balkan state's impoverished economy and make progress in joining the European Union.
About 1.9 million Kosovars, nearly half a million of whom live abroad, are registered to vote in the third election since Kosovo declared independence in 2008.
The West sees the integration of the Western Balkan countries in the European Union as a way to stabilize a region still recovering from wars in the 1990s.