'Mayhem', 'Mayday' and 'Beaten at her own game' - the press reacts to the UK election result
Comments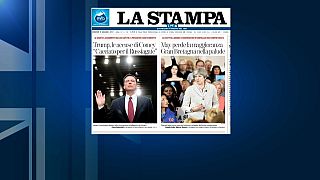 UK Prime Minister Theresa May called the snap general election to strengthen her mandate heading into the upcoming Brexit negotiations. But Britain has woken up to the news of a hung parliament and weakened support for the leader.
'Mayhem', 'Britain on a Knife Edge', 'Hanging By A Thread'… In some cases, historically pro-Conservative tabloids have been more scathing than publications that support Labour.
European reactions
But the shock UK election result has also sent ripples around Europe and further afield.
Several German newspapers led with the simple headline 'May-Day', signalling the weakened state the prime minister and her Conservatives find themselves in.
'Theresa May, beaten at her own game," said left-leaning French paper Libération.
Italy's La Stampa ran with 'Great Britain in the swamp.'
Spain kept things simple: 'May wins without an absolute majority and Corbyn asks for her resignation,' El Pais reports.
'May trembles' said Portugal's Negocios, in a nod to the PM's 'strong and stable' campaign slogan.
Greek daily Ta Nea took a more dramatic line, reporting that 'May's suicide saved Corbyn'.
Hungary's MNO labelled the election result a 'lost gamble', while Turkey's Milliyet speculated on whether or not May would resign.