Jermey Corbyn says UK Prime Minister Theresa May should resign after triumphant night for Labour
Comments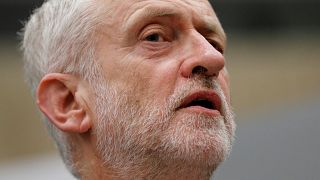 Jeremy Corbyn, whose political career reached unexpected heights as the results of the UK's general election filtered through last night, has urged Prime Minister Theresa May to stand down after a dismal night for the Conservatives.
After a nailbiting evening for the opposition leader, Corbyn said the results showed the public is turning its back on the Conservative party.
"This election was called for the prime minister to gain a larger majority in order to assert her authority. The election campaign has gone on for the past six weeks – I've travelled the whole country. I've spoken at events and rallies all over the country," Corbyn said.
"Politics isn't going back into the box where it was before. What's happened is, people have said they've had quite enough of austerity politics, they've had quite enough of cuts in public expenditure, under-funding our health service, under-funding our schools, our education service, and not giving our young people the chance they deserve in our society," he continued.
Whatever the final result, our positive campaign has changed politics for the better. pic.twitter.com/EHLta2rnIW

— Jeremy Corbyn (@jeremycorbyn) June 9, 2017
Prime Minister May said in her Maidenhead constituency shortly after Corbyn's speech: "As we look ahead and wait to see what the final results will be, I know that the country needs a period of stability. And whatever the results are the Conservative party will ensure that we fulfill our duty in ensuring that stability so that we can all, as one country, go forward together."
The Labour Party leader had an early boost on election night when exit polling forecast that May would not achieve the overall majority she was expection.
Despite the election being considered by some to spell doom for Corbyn, it doesn't appear he is going anywhere.