Comey accuses Trump over FBI probe
Comments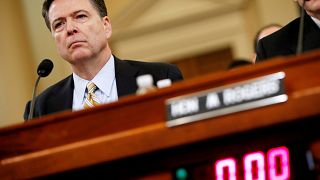 Former FBI director James Comey has accused US President Donald Trump of trying to get him to water down the bureau's investigation into Russia's alleged interference in the 2016 US presidential election.
Trump asked Comey to drop an investigation of former national security adviser Michael Flynn as part of the Federal Bureau of Investigation probe into whether Moscow meddled in the election, according to testimony from Comey posted on the Senate Intelligence Committee's website.
Comey said Trump told him at a dinner on January 27, a week after the president took office, that: "I need loyalty. I expect loyalty."
Comey, who Trump fired last month, is to deliver his testimony in person at a much-anticipated hearing at the intelligence committee on Thursday.
During the dinner, the president asked him if he wanted to stay on as FBI director, Comey said. The former FBI head said he became concerned that Trump was trying to create "some sort of patronage relationship."
Probes of the Russia allegations have hung over Trump's presidency since he took office and threaten to overwhelm his policy priorities, with several congressional committees conducting their own investigations of the alleged meddling by Moscow.
The Kremlin denies US intelligence agencies' conclusion that Moscow tried to tilt the election campaign in Trump's favor, using means such as hacking into the emails of senior Democrats. Trump has denied any collusion.