Hundreds of football fans hurt in Turin stampede
Comments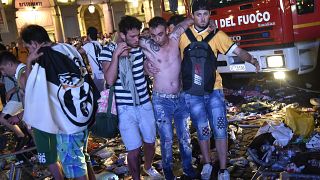 Around 1500 people have been hurt in the Italian city of Turin after a firework provoked a stampede during a live public screening of the Champions League final.
30,000 Juventus fans had packed into the city's Piazza San Carlo to watch their team take on Real Madrid, when a loud sound prompted panic.
Many supporters ended up being crushed against barriers.
One supporter said
''They should stop these crazy jokes. Someone said no firecracker was let off. Others said yes. I don't know, what I do know is I have hurt my ankle.''
Several fans are said to be in a critical condition, including a seven year old boy who suffered head and chest injuries.
Police think the stampede may have been triggered by people mistakenly thinking the firework was a bomb.
The incident took place during the second half of the match, which local club Juventus lost 1-4 to Real Madrid.