Violent storm in Moscow kills 11
Comments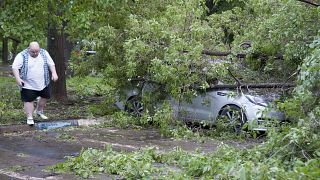 At least 11 people were believed to have been killed and scores injured as a freak storm swept through Moscow on Monday.
Hundreds of trees were toppled by winds of up to 80 kmh, blocking roads and railways.
More than 50 people sought medical assistance.
The mayor of Moscow called the storm unprecedented for the Russian capital.
The death toll was the highest due to storms in the capital in a single day for almost 20 years. Between eight and 11 people died in storm in the capital in 1998.