Ex-Greek PM Papademos ''progressing well'' after letter bomb blast
Comments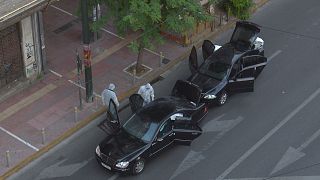 The former Greek prime minister Lucas Papademos is said to be ''progressing well'' in hospital after being wounded in an apparent bomb attack.
The 69-year-old was hit by a blast after opening an envelope inside his car. He sustained serious injuries to his leg and upper body though they are not said to be life-threatening. Doctors expect him to remain in intensive care for the next two days.
Counter-terrorism experts fear more booby-trapped parcels maybe in the postal system.
Former Greek government minister Μιchalis Chrisohoidis told euronews: "Incidents like that happen in almost every European country. I think that there is a need for more international cooperation in order to deal with this problem. In my opinion we are all in danger. We are in danger from those problems (militant groups) and Islamist terrorism. An attack against a former PM is a bad sign."
Suspicion has already fallen on the Greek guerrilla group The Conspiracy of the Cells of Fire. It recently claimed responsibility for sending letter bombs to both the IMF and German finance ministry.
A former vice president of the European Central Bank, Papademos was also caretaker prime minister of Greece for a few months at the peak of the country's debt crisis five years ago.