Europe ups defence spending for first time in seven years
Comments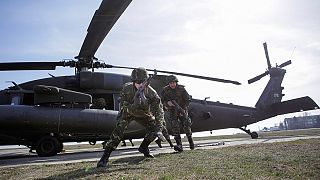 Europe's spending on defence has edged up for the first time in seven years, new figures have revealed, amid fears of Russian aggression in the Baltics.
NATO's army of European states spent an estimated 1.46 percent of GDP on defence last year, up from 1.45 percent in 2015 and the first increase since 2009.
The hike was driven by Latvia, Lithuania and to a lesser extent Estonia, three of just six countries to increase spending compared with seven years ago.
Analysts say the three Baltic republics are upping outlay on arms and military equipment after Russia's annexation of Crimea.
The trio were annexed by the Soviet Union in 1940 after the outbreak of World War Two but regained independence in 1991 amid the collapse of communism.
But while the Baltic countries drove the increase in spending among NATO's European countries, most states posted only modest increases in outlay in 2016, compared with the previous year.
It comes after new US president Donald Trump called NATO obsolete during his election campaign and calling for countries to spend at least 2 percent of their GDP on defence.
The US spent 3.61 percent of its GDP on defence in 2016, while only four of NATO's European members – Estonia, Greece, Poland and Britain – met the two percent threshold.
"There has been progress but the job is far from done, we still have no fair burden-sharing within our alliance," NATO's Secretary General Jens Stoltenberg said. "It is realistic that all allies reach the goal of two percent."
Stoltenberg said Romania was due to meet the target this year, with Lithuania and Latvia expected to follow in 2018.
"This is not just about a call from the Unites States and President Trump. It is in Europe's best interest to spend more on defence. We have a long way to go but at least after years of decline, we are now starting to see an increase."