UK raises its terror threat level to critical
Comments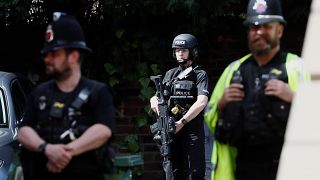 Britain has raised its security threat level from "severe"to "critical" following the suicide bombing in Manchester which killed 22 people.
The move means that further attacks may be imminent.
Prime Minister Theresa May made the announcement.from Downing Street after chairing another emergency Cobra meeting:
"The change in the threat level means that they will be additional resources and support made available to the police as they work to keep us all safe.[…] This means that armed police officers responsible for duties such as guarding key sites will be replaced by members of the armed forces which will allow the police to significantly increase the number of armed officers on patrol in key locations."
Police have named Salman Abedi as the suspected suicide bomber – a 22-year-old of Libyan decent but British born.
The Times newspaper reported that Abedi had arrived back in Britain from Libya recently. He is believed to have travelled by train from London before the attack.
Several properties in Manchester have also been raided. Investigators have so far been unable to rule out if the bomber acted alone.
Britain's top anti-terrorism officer Mark Rowley of the Metropolitan police said the investigation was making progress:
"The public will be aware of the arrest that's been made and the searches that are ongoing and there's more work of that type that we're continuing at the moment. However, as we've said throughout the last 24 hours, the critical line of inquiry for us is looking at whether the dead terrorist was acting alone or as part of a group."
Monday night's attack at the end of a pop concert at the Manchester Arena is the UK's worst since terror incident since the 2005 London transport bombing.
Many of the 22 dead and scores of injured were children and young people.
The bomber detonated his device just as people were leaving the the Ariana Grande concert in order to cause maximum carnage,