Manchester stands strong in the face of mindless violence
Comments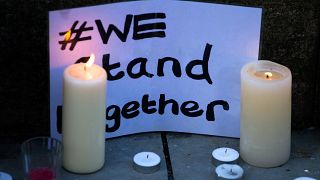 Thousands attended a vigil in central Manchester on Tuesday night, in a sign of solidarity with victims of the deadly terror attack in the northern English city.
We will stand together in spite of oppression, terrorism

Manchester Imam
Representatives of different religions joined national and local political figures and ordinary citizens in a sombre but defiant atmosphere.
Members of the city's Muslim, Christian, Jewish and Sikh communities said they wanted to show that Manchester, while shocked, would not be cowed.
"It was incredibly emotional … for us especially as Muslim citizens," said Muhammad Khursheed, an imam of a mosque in the Manchester suburb of Hulme. "We will stand together in spite of oppression, terrorism. A strong, powerful message today."
The square was as full as the eye could see as people turned out to show their solidarity https://t.co/TRquJhCgFC

— Manchester News MEN (@MENnewsdesk) 23 mai 2017
"The people of Manchester will remember the victims forever and we will defy the terrorists by all our diverse communities working together cohesively and with mutual respect," the Lord Mayor of Manchester, Councillor Eddy Newman, told the crowd.
Vigils were held across Britain and, at a garden party at Buckingham Palace, the Queen and Prince Philip joined guests in observing a minute's silence.
Following the attack in Manchester, The Queen and Members of the Royal Family held a minute's silence at today's Garden Party. pic.twitter.com/tAoo5XJWoG

— The Royal Family (@RoyalFamily) 23 mai 2017
Prime Minister Theresa May expressed her grief, signing a book of condolence for victims in Manchester where she visited police headquarters and a children's hospital.
Today the Prime Minister visited Manchester where she signed a book of condolence for the victims of last night's terrorist attack. pic.twitter.com/mJ9uqzEl7I

— UK Prime Minister (@Number10gov) 23 mai 2017
Concert goer Shauna Hardy says she feels lucky to be alive.
"I just remember the smell. I can't describe it. It was a really awful smell," she said.
"And there was just alarms going off, police everywhere. Sirens everywhere. People running, screaming. It was just crazy. Absolutely crazy."
Eager to help victims in a practical sense, locals lined up to give blood.
"I heard the news this morning when I woke up," said volunteer Rosie Bentley.
"I have lived in Manchester for just over a year and…my heart breaks for the people and I just thought – what can I do? And I just listened to the radio and they said that people are calling for blood and I have got a blood type that they are asking for so I just got straight down here."
Manchester is traumatised – its people remembering those they have lost but standing resilient and ready to face the future.
Exactly 24 hours on from the attack and more than £750,000 has been raised to support families of those killed and injured #WeStandTogetherpic.twitter.com/KXgO6TP4lq

— Manchester News MEN (@MENnewsdesk) 23 mai 2017
with Reuters