Imminent attack: The UK's "critical" terrorism threat level explained
Comments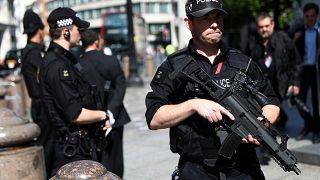 The United Kingdom increased its terrorism threat level to its highest level of "critical", prompting the deployment of soldiers throughout the country, after the UK's worst terror attack since 2005.
A "critical" terrorism threat designation means a terror attack is expected imminently. It is the highest of five levels established and set by MI5, the UK's domestic intelligence agency.
Under the new threat designation, as many as 3,800 troops could join forces with the country's Metropolitan Police Service (MPS) to guard what the UK considers sensitive targets including Buckingham Palace, parliament, Downing Street and London's various embassies.
As many as 984 soldiers will be stationed as part of a first initial deployment across the country.
Their deployed will free other officers to conduct active patrols throughout London as police in Manchester continue their investigation into the bomb attack which killed 22 people, said the MPS in a statement Wednesday.
The MPS said the soldiers will remain under the command of police. It added there will also be more armed police officers patrolling London and they will be teamed up with specialist officers trained in identifying potentially threatening individuals.
These officers the MPS said will provide a "highly visible" deterrent and will use "disruptive" tactics including stop and searches, vehicle checkpoints and automatic vehicle plate registration technology to secure the capital.
"The reality is that we must be prepared to be able to respond to and deal with armed and deadly attackers, so we must be in a position to respond with firearms officers who will use force to stop those attackers in their aim," said commander Jane Connors, who leads the London policing operation. "Whilst some of what we are doing will be obvious to the public there is a huge amount of work happening day and night that the public will never know about."
Yesterday is the third time the UK's threat level reached its maximum. The last time the UK was under a "critical" threat level was 10 years ago. The threat upgrade is also the first in two years.
It was previously upgraded from "substantial" to "severe" in 2014 under Prime Minister Cameron and Home Secretary Theresa May who warned at the time of the threat posed by radicalised Britons returning home from fighting in Syria.
Under a "severe" designation, a terrorist attack is considered "highly likely".
Terrorism threat levels were made public one year after the deadly London terror bombings in 2005.
British Interior Minister Amber Rudd said the country will remain under its highest state of alert until police close their investigation into the Manchester bombing.
At least four people have now been arrested in the Manchester area in connection to Monday evening's terrorist attack and police are continuing their investigations.
The arrest come as Rudd said it is unlikely the 22-year-old attacker, Salman Abedi, worked along in orchestrating his attack.
The French government said it believes Abedi may have travelled to both Libya and Syria where he may have become radicalised.
The exact motive of his suicide attack is not fully known, but ISIL claimed responsibly for the attack.
The MPS said upcoming cultural or sporting events are now under review and the subject of a heightened security consultation.
Specialist officers, the MPS said, will be advising businesses and venues across London to provide extra security arrangements.
Monday evening's terrorist attack hit a concert venue in Manchester in which US pop star Ariana Grande was performing.
As part of her European tour, Grande is expected to perform in London later this week, but the singer had reportedly postponed her upcoming concerts.
The MPS again urged Londoners to remain calm but vigilant.
"At this time we need the people of London to remain calm but alert," MPS commander Connors said. "We your help to help us protect the capital and thwart the terrorists who seek to divide us undermine our way of living."