Ethiopia's Tedros Adhanom is first African to lead World Health Organization
Comments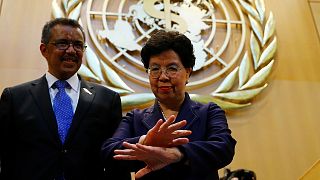 The World Health Organization (WHO) appointed the first African to lead the institution on Tuesday.
Tedros Adhanom Ghebreyesus, from Ethiopia where he has been health and finance minister, won in a three-ballot contest.
Tedros as he is widely known has vowed to make universal health care his priority.
The WHO said he had led a comprehensive reform effort of Ethiopia's health system, creating health centres and jobs. In a statement the organisation said he would take up his post on July 1.
His appointment has been welcomed by international medical bodies, charities and the US government. However questions have been raised over his role in Ethiopia's repressive government and the country's cover-up of a cholera outbreak.
Ethiopia's Tedros Ghebreyesus becomes first African to head World Health Organization (WHO</a>) <a href="https://t.co/6Sv7XUt7Jw">https://t.co/6Sv7XUt7Jw</a> <a href="https://t.co/5XDfyiFK6y">pic.twitter.com/5XDfyiFK6y</a></p>— Al Jazeera English (AJEnglish) May 23, 2017