Venezuelan health workers march against Maduro
Comments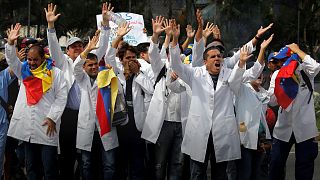 Health care workers in Venezuela have become the latest group to protest against the government of President Nicolas Maduro in a rally dubbed the march for health and life.
They were decrying the country's deteriorating public health and medical shortages, accusing Maduro of running the country into the ground.
These are the hospitals in Venezuela. No medicine No supplies People dying of curable illness. #MaduroMustGopic.twitter.com/KQE85lNckR

— Michael Welling (@WellingMichael) May 22, 2017
Opposition leader Henriques Capriles claims doctors are abandoning Venezuela due to the economic and political crisis:
"How many doctors have left the country, they have calculated that more than 20,000 doctors have left Venezuela in recent times to practice medicine in other countries. We Venezuelans are losing everything, but they will not be able to rob us of our hope, our convictions, our firmness, as we are demonstrating, and fighting so that our country has a future."
In scenes repeated over and over in recent weeks, security forces fired tear gas at the demonstrators and clashes erupted. What had begun as a peaceful march ended in further violence.
Since the begining of April at least 49 people have died in anti-Maduro unrest, including supporters of both sides.