Horror, chaos and anguish in Manchester
Comments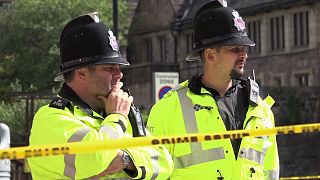 Witnesses have related the horror and chaos of Monday night's suicide bombing at the Manchester concert arena, which killed at least 22 people and wounded dozens more, including many children.
Bethany Keeling, from West Yorkshire in northern England, said she was just behind an exit door when the bomb went off. She described how she saw a flash of light, followed by debris and a person being thrown across the floor.
"I grabbed my friends hand and we just ran, but we looked and we could see the bodies on the floor, outside and in the arena part. And there was just rock (building debris) everywhere and shoes and all sorts," she said.
Manchester Police and British Prime Minister Theresa May said the explosion was caused by a single man who died in the bombing. The self-styled Islamic State militant group said the attacker was one of its fighters.
Police said the assailant detonated the explosives shortly after 10:33 pm at Manchester Arena, which has the capacity to hold 21,000 people. Several children were killed in the attack, including an eight-year-old girl, Saffie Roussos, a pupil at Tarleton Primary School, approximately 64km north-west of Manchester.
The blast prompted a stampede just as the concert by US popstar Ariana Grande ended at Europe's largest indoor arena.
Paula Robinson, 48, said she was at the train station next to the arena with her husband when she felt the explosion and saw dozens of teenage girls screaming and running away from arena.
"We ran out," Robinson told Reuters. "It was literally seconds after the explosion. I got the teens to run with me."
Robinson took them to a nearby hotel and tweeted out her phone number to worried parents, telling them to meet her there. She said her phone had not stopped ringing since her tweet.
Paula Robinson has been dubbed the 'Angel of Manchester' for taking in 50 kids after attack at Ariana Grande concert https://t.co/GjYMAjv70kpic.twitter.com/YXtDk5vJfO

— Yahoo (@Yahoo) May 23, 2017
Desperate hunt for those missing
On Tuesday, many people were desperately searching for loved ones in the wake of the attack. The harrowing hunt carried echoes of the November 13, 2015 attack on the Bataclan concert hall in Paris, when some parents were left in the dark about the fate of their loved ones for several days.
Social media users have offered help by circulating names and photos with the #MissinginManchester hashtag.
Those named as missing included 15-year-old Olivia Campbell. She attended the Ariana Grande concert with a friend from school who has since been found and is being treated in a hospital.
Olivia last called home just before the concert, her mother Charlotte told ITV television's Good Morning Britain breakfast show. "I'm heartbroken at the moment, because I don't know where she is. I don't know if she is alive even yet," she said.
A mother's direct appeal for information that might help find her daughter Olivia Campbell, 15, still missing after the Manchester attack pic.twitter.com/oIOgR1HFjA

— Victoria Derbyshire (@VictoriaLIVE) May 23, 2017
Many of the fans at the concert were in their teens. Sebastian Diaz, 19, and his 17-year-old friend Kieron Ferries, both of whom had travelled from Newscastle to attend the concert, told Reuters their bags had not been checked before they entered the concert venue.
Armed officers are patrolling across Manchester.
The terror threat level in the UK remains at "severe" – unchanged for now – but Prime Minister Theresa May said it would be reassessed throughout the week.