Eurogroup delays fresh funds to Athens
Comments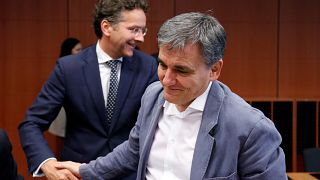 Euro zone finance ministers have failed to agree a deal with Greece which is needed to unlock the next instalment of its multi-billion euro bailout.
Athens needs new cash to avoid a default in July when it has to repay some 7.3 billion euros worth of maturing loans.
However progress on reforms is being made according to European Commissioner, Pierre Moscovici:
"We are talking about a range of very considerable commitments… these prior actions involve 140 measures, and they are not minor reforms. I briefed the Eurogroup that 104 of the 140 mentioned could already be regarded as done. Indeed today the number was raised slightly because further progress was achieved so we stand now at 115 completed actions."
But the "nearly but not quite" message is likely to be lost on Greece with recent figures showing its economy back in recession.
Last week the Greek parliament approved pension cuts and tax hikes but to get its much needed funds it has to show the measures are being fully implemented.
The other reason why no new loans could be agreed was the lack of agreement between the euro zone and the IMF on debt relief for Greece.
Several euro zone governments, notably Germany, do not want to pay out any new loans until the IMF joins the bailout, and the IMF says it can only do so if it gets more clarity from the euro zone on what kind of debt relief it will offer Greece at the end of the bailout in 2018 to make its debt sustainable.