West Bank walk out supports hunger-striking Palestinians in Israeli prisons
Comments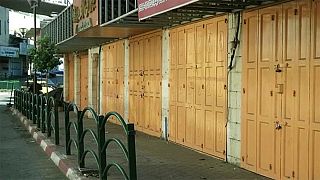 Palestinians in the West Bank and in East Jerusalem have closed all shops in a general strike in support of Palestinian prisoners in Israeli jails whose mass hunger strike has entered its 36th day.
They want an end to Israel's policy of detention without trial, that has been applied against thousands since the 1980s.
"It is a general strike that has shut down all facilities in the West Bank and Gaza, and in the territories of 1948," explained Hebron resident Ali al-Abed. "It is a good step by all shop owners in support of the prisoners."
The strike comes as US President Donald Trump visits the region and meets Israeli and Palestinian leaders.
A Palestinian advocacy group says several of the hundreds of hunger striking prisoners had been hospitalised.
The Palestinian prisoners' affairs committee called for a day of rage on Tuesday (May 23), when Trump visits Bethlehem. It says it would allow for "the voice of the prisoners to be heard by the president."
Palestinians call for 'Day of Rage' to protest Trump's visit to the occupied territory https://t.co/EFLFD9fCZ0pic.twitter.com/aCqOho9RRp

— Ma'an News Agency (@MaanNewsAgency) May 21, 2017
Palestinian factions call for 'A Day of Rage' during Trump visit https://t.co/elM4ogBv5j#ArabIsraeliConflictpic.twitter.com/gircyBlY5G

— The Jerusalem Post (@Jerusalem_Post) May 20, 2017