Protests and violence around Jerusalem
Comments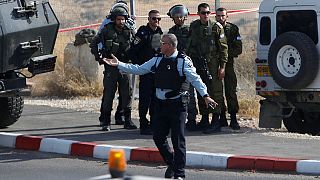 A young Palestinian has been shot dead as he ran at Israeli police officers wielding a knife at a checkpoint near the Palestinian town of Abu Dis.
"We are closing all the shops in Bethlehem today because we are standing with all the prisoners."

Fatah activist
Donald Trump was visiting Jerusalem's Old City just a few kilometres away as the incident took place.
The Palestinian prisoners' affairs committee had previously called for a "day of rage" to coincide with the US President's visit to Bethlehem scheduled for the following day.
hunger strike continues
Meanwhile Palestinians continued their general strike in support of prisoners who have been on hunger strike for 36 days.
1600 Palestinian prisoners continue the largest prison hunger strike in Israeli jails. Today marks day 36, week 6 #DignityStrike36

— DignityStrike36 (@DignityStrike36) May 22, 2017
Masked Fatah activists were out on the streets in Bethlehem to prevent people from going to work.
Protesters blocked roads elsewhere in the West Bank; shops and government offices were closed; and transport ground to a halt.
spikes of violence
The Qalandia checkpoint on the outskirts of Jerusalem experienced violent clashes as Palestinian youths set tires on fire and threw bottles and stones.
Israeli soldiers responded with tear gas and rubber bullets.