US calls on Iran's Rouhani to act on terrorism and missile testing
Comments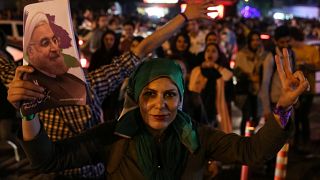 The US wants to see action from Iran over terrorism and ballistic missile testing.
American Secretary of State Rex Tillerson has set out his hopes for the new Hassan Rouhani presidency during a visit to Saudi Arabia.
"What I would hope is that Rouhani now has a new term and that he use that term to begin a process of dismantling Iran's network of terrorism, dismantling its financing of the terrorist network," Tillerson told reporters.
"We also hope that he puts an end to their ballistic missile testing. We also hope that he restores the rights of Iranians."
Sec Tillerson: WehopePresRouhaniuses new termto dismantle#Iran's network of terrorismand put an end to ballisticmissile testing. pic.twitter.com/QeqYzCQn6X

— Heather Nauert(@statedeptspox) 20 May 2017

It was Rouhani who broke the taboo of holding direct talks with the US and struck an international deal to curb Iran's nuclear programme – in return for relief from economic sanctions.

Rouhani won 57 percent of the vote in Friday's presidential election. He defeated Ebrahim Raisi, a hardline cleric who holds ultimate power in Iran's complex, hybrid system of theocratic and republican elements.

Trump's administration is likely to keep piling pressure on Iran over its weapons programmes, as well as what it sees as Tehran's efforts to destabilise the Middle East, according to former US officials and analysts.