Spain's Socialists elect hard-liner Pedro Sanchez as their new leader
Comments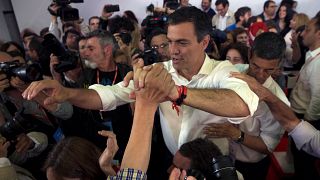 Spain's bitterly divided Socialist party has chosen a new leader. Pedro Sanchez a former party chief and relative hardliner has come out top with over 49 percent in Sunday's primary election .
It doesn't bode well for Prime Minister Mariano Rajoy's minority Popular Party (PP) government which has relied on the Spanish Socialist Workers' Party (PSOE), the main opposition party, to pass key measures in parliament since it was sworn in for a second term in October 2016. Sanchez is expected to take a more adversarial stance against Rajoy's market-friendly deficit tackling policies.
Sanchez's main rival the establishment favourite Susana Diaz garnered just over 40 percent and had been seen as the more willing candidate to strike deals with the government.
The puzzle for Spain's Socialists is how to regenerate themselves in the shadow of Podemos, the radical new party https://t.co/ZWMlc9W9T2

— The Economist (@TheEconomist) May 21, 2017
Despite electing a new leader the Socialists are still facing the challenge of trying to prove their relevance in a split parliament that has left them between the right-wing policies of the PP and market friendly Ciudadanos (Citizens) on one hand and the hard-left Podemos (We Can) on the other.