Champions and first-timers strike Judo gold in Ekaterinburg
Comments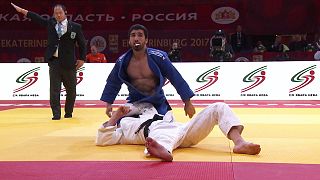 Day two of the Judo Grand Slam in Ekaterinburg, Russia, and the reigning Olympic champion and local hero Khasan Khalmurzaev was in action, winning gold to make him the Man of the Day.
It was his first IJF tournament since Rio, and he did not disappoint. In the – 81 kilos semi-finals he faced Dutchman Frank de Witt, but the acid test remained, a final against
Hungary's Atila Ungvari, twice a grand slam runner-up.
Make that three, as Khalmurzaev won with an uchimata ippon.
"Yes, its my first tournament back in action. I started training again back at the start of the year, but until now I wasn't ready to compete. It was interesting for me to fight here in Ekaterinburg. I feel good and I was happy to fight here and feel happy that I won," he said afterwards.
Find out the results from the last day of #JudoRussia2017 -> https://t.co/dxuTrr97Ixpic.twitter.com/zKVTMuAUiY

— Int. Judo Federation (@IntJudoFed) 21 mai 2017
The Woman of the Day is Dutch. Sanne Van Dijke won her first Grand Slam gold the hard way, coming from behind in the – 70 kilos class to beat Aleksandra Samardzic in the semi finals, and then Russia's Alena Prokopenko in the final.
The Russian took the lead with a perfectly executed waza ari, but Van Dijke got back on top, quite literally, with an ippon and then a throw which saw her land on her opponent and pin her.
In the – 78 kilo class final the reigning world champion, Japan's Umeki Mami got Britain's double European champion Natalie Powell in an armlock, then an ippon, forcing her to submit.
In the – 90 kilos class Nagasawa Kenta won his first ever Grand Slam gold medal after coming so close in Tokyo. The young judoka faced Hungary's wily fighter Krizstian Toth, with the Japanese using a pin to wring submission from his opponent.
Move of the Day came from Austria's Laurin Boehler in the – 100 kilo category.
He threw Latvia's Jevgenis Borodavko with a spectacular ura nage for ippon. No coming back from that.
In the class the gold medal went to Hungary's Miklos Cirjenics, who is hitting top form just ahead of the World Championships, where he will get a home crowd boost. What a time to pick up your first Grand Slam Judo gold.