Trumps arrive in Saudi Arabia for president's first foreign tour
Comments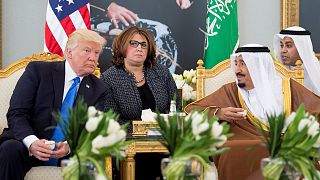 The Trumps have touched down in Saudi Arabia for the president's first foreign trip since taking office.
Donald Trump begins the eight-day tour of the Middle East and Europe in Riyadh where he is to set out his "hopes of a peaceful vision of Islam."
Getting ready for my big foreign trip. Will be strongly protecting American interests - that's what I like to do!

— Donald J. Trump (@realDonaldTrump) May 19, 2017
Ahead of the visit, he gave this address in the US.
"My fellow Americans. This weekend I begin my first trip overseas as president – a trip with historic significance for the American people.
"I will be visiting with the leaders in many different countries to strengthen our old friendships, build new partnerships, and unite the civilised world in a fight against terrorism".
The president is attending the Arab Islamic American Summit, which is expected to focus on battling Islamist militants and Iran's increasing influence in the region.
Trump's tour also includes Israel, the Palestinian Territories, Brussels, the Vatican and Sicily, taking him to the religious capitals of Judaism, Islam and Christianity.