Trump signs big money deals on Saudi trip
Comments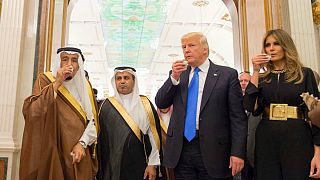 It has been a good day in the office in the desert kingdom for Donald Trump.
Visiting Saudi Arabia on his first presidential trip abroad, Trump sealed a $110 billion arms deal with his hosts on Saturday, part of some $350 billion worth of business, according to the United States.
It is all a far cry from the US President's political troubles at home.
"That was a tremendous day. I just want to thank everybody," Trump told reporters.
"…Tremendous investments into the United States and our military community is very happy and we want to thank you and Saudi Arabia…hundreds of billions of dollars of investments into the United States and jobs, jobs, jobs."
Trump is beginning a marathon trip through the Middle East and Europe. He will give a speech on Sunday aimed at rallying Muslims in the fight against Islamist militants.
Despite some of Trump's previous comments about Islam, the Saudi foreign minister has called his visit the start of a turning point between the US and the Arab Islamic world.