New Greek austerity measures passed, but public doubts remain
Comments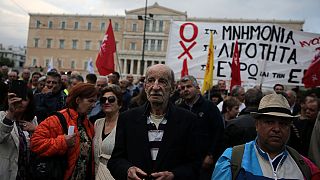 In Greece, lawmakers have voted for another round of austerity and cuts, which they hope will encourage Eurozone leaders to release a further bailout funds
But the decision is an unpopular one. After seven years of austerity, the Greek people are doubting the effectiveness of the policy, and many are feeling the harsh reality of the situation.
"They cannot tell me that we are on our way to growth, to reforms, when at the same time prices go up, the paychecks are cut, the pensions are cut. Where is the growth? All the shops around here are closed".
Greece has received 260 billion euros in bailout funds so far, and with the passage of further austerity measures, it is hoped another 7.5 billion euros will come its way.
Political economist Kostas Melas says the measures are a means to an end.
"We have to find a way to solve the debt issue. To get a promise on how it will be solved, and then based on that the European Central Bank will be able to include us in their quantitative easing. On this particular basis, and perhaps a precautionary credit line, Greece will be able to gradually return to the markets".
In Athens, our reporter Nikoleta Drougka said: "The new measures are now officially in law. The Greek government has tried to emphasise the counter-measures that were voted in, and says that this is the beginning of the end for the crisis. The people, though, are afraid they will endure even more austerity."