Pensioners march ahead of Greek parliament vote on more austerity
Comments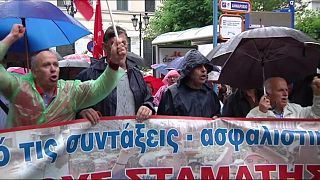 Hundreds of pensioners braved torrential rain in Athens on Thursday morning to express their anger at the latest planned cuts to their incomes.
More demonstrations were expected with parliament due to vote on a new austerity package – part of an agreement with international creditors in order to secure the next bailout installment.
Wednesday saw a general strike as thousands of Greeks walked off their jobs and marched through the centre of the capital, in response to a call by the main public and private sector unions to protest.
Public transport and services across the country were disrupted.
With Greece still unable to pull out of recession, the government is hoping at least to open talks about debt relief.
In the meantime parliament is expected to vote in favour of the plan which would lower pensions and raise taxes by nearly five billion euros, although compensation is planned for the most deprived along with subsidies for rents and medicine.
In return, seven billion euros of loans would be released, enabling Greece to pay back four billion to the European Central Bank by July 20.
The new package would take effect over two years starting from the end of the current austerity plan.