Greek parliament approves more pension cuts and tax hikes
Comments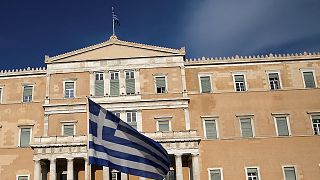 More pension cuts and tax hikes are on the way in Greece, after the country's parliament approved a new round of austerity.
Coming just days before a eurozone finance ministers meeting in Brussels, the leftist-led government hopes it will convince its lenders to release a 7.5 billion euro bailout tranche and grant it further debt relief.
The decision came as angry demonstrators protested outside the parliament building in Athens. Some hurled petrol bombs and firecrackers at police, officers responded with tear gas.
Tensions high over the fresh austerity, the latest since Greece plunged into crisis seven years ago.
"When a lawyer gets 100,000 euros, his net income (after taxes pension contributions) is only 20,000 euros," said lawyer Dimitris Petropoulos.
"From those 20,000 euros he has to invest in his job, in order to get the 100,000. Now in Greece there is no lawyer who gets 100.000 euros per year. You can understand the reality for poor people."
Shop owner Sissi Boukouvala added: "My income has reduced by 80 percent. I can't pay anything. My debts are increasing. We don't have an income anymore and they raise taxes. I don't know what will happen from now on. I don't have hope in anyone, neither SYRIZA or New Democracy."
Greece has already received about 260 billion euros in bailout aid, in return for reforms and deep spending cuts.
Reporting from Athens, Euronews' Michalis Arampatzoglou said: "The Greek government believes the latest measures will finally end the economic crisis and the country will return to growth. But protesters see the new cutbacks as a long term extension of austerity."