Japan: Emperor Akihito 'abdication bill' backed by cabinet
Comments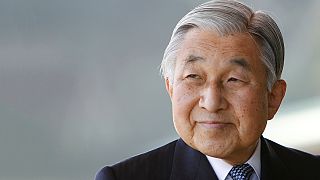 Prime Minister Shinzo Abe's government passed a bill on Friday that would allow Japan's elderly Emperor, Akihito, to abdicate.
Parliamentary approval is still needed but no obstacles are envisaged.
It means Akihito is poised to become the first Japanese emperor to step down for nearly two centuries. The 83-year-old, who has had heart surgery and prostate cancer treatment, said last year that he feared age might make it hard for him to fulfil his duties.
The Japanese government has approved a bill to let Emperor Akihito abdicate https://t.co/ahaDZ0JqwJ

— TIME (@TIME) 19 mai 2017
He will be succeeded by his son, Crown Prince Naruhito, 57, possibly in late 2018.
But who, in turn, will follow him?
Japanese media says the abdication bill, only applicable to the current emperor, makes no reference to the controversial issue of changing the system to allow women to inherit the throne. Naruhito has only one child, a teenage daughter, Aiko, who cannot inherit the throne.
Her future role is part of a broader discussion on women's place in Japan.
"I would like to see society progress in a way that encourages women to freely take on active roles in society," said 34-year-old film director Harie Gyo, speaking in Tokyo.
"I think that more women working will lead to a brighter and happier society."
Modern Japan's ever-shrinking pool of royals was highlighted this week with news that Emperor Akihito's eldest granddaughter Princess Mako is to marry a commoner, meaning that she will have to give up her royal status.
Japan's Princess Mako is set to give up her royal title in order to marry a commoner. https://t.co/KO0XuMural

— Vogue Magazine (@voguemagazine) 19 mai 2017
with Reuters