Vladimir Putin ready to disclose President Trump talk transcript
Comments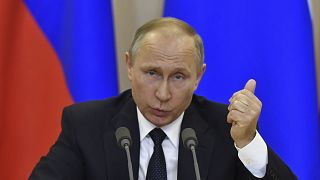 Vladamir Putin has said he is willing to hand over a transcript of talks between Donald Trump and senior Russian officials.
Speaking in Sochi alongside Italian Prime Minister Paolo Gentiloni, the Russia President dismissed the latest scandal to hit the White House as ''political schizophrenia'' and branded those accusing President Trump of handing over classified information to Moscow as either crazy or ''dangerous''
"If the US administration wants, we are ready to give the recordings of these conversations to the United States Senate and Congress. I am surprised that these people are destabilising their country using such anti-Russian slogans. So either they do not understand that they are hurting their own country, so they're crazy, or they do understand what they are doing, so they are dangerous and nasty people.''
US media say Trump passed on secrets to Russia's Sergei Lavrov during their meeting last week.
It comes amid claims the US president also tried to influence an FBI probe into his team's links with Moscow.