Greeks walk out in general strike over new austerity measures
Comments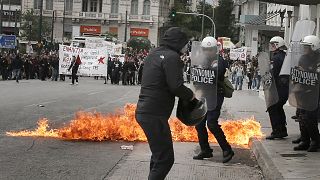 Transport and public services across Greece have been severely affected by a general strike.
The walkout was called by the country's two biggest trade unions over new austerity measures.
The industrial action comes a day before parliament is set to vote on controversial reforms which will cut pensions and end tax breaks.
In Athens, thousands of people took to the streets in protest.
"If these measures are passed things will be very difficult, and the growth they are talking about is not for us or our children, but for the capitalists,'' one demonstrator said.
''This looting of the workers and pensioners has gone on for too long. They have taken us to the lowest of levels," another protester said.
Along with hospitals, the nationwide strike has seen metro, ferry and other public transport services grind to a halt.
The Greek government needs to make further savings before its eurozone lenders agree to handover more loans as part of the country's latest bailout deal.