Early elections to be held in Austria after coalition breaks down
Comments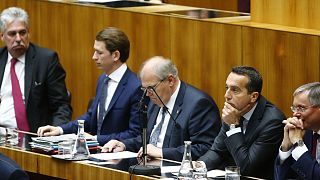 Austria will hold a snap election in October after a breakdown in coalition relations forced the hand of Chancellor Christian Kern.
The vote, which will be held on October 15, could see the far right Freedom Party, who are currently leading some opinion polls, enter government.
Kern, of the Social Democratic Party was quick to reveal his discontent.
He said: "We will have a look at the projects. You have to know: The People`s Party has ended the coalition on its side. As a background, you have to consider, that the country will be stagnant for four months. This is a bad option"
However, Sebastian Kurz, Kern's coalition partner was more optimistic.
He told reporters: "Speaking in coalition terms, there are clear rules, mainly no one may overrule another in Parliament. If we take this step, the time until the election will be structured."
Months of friction between the two factions triggered calls for an early election.
This tension came to a head when Reinhold Mitterlehner, the former leader of the conservative Austrian People's Party and Vice Chancellor stood down.
Now both parties will have to fend off a serious challenge from the far right, with the anti immigration and anti EU Freedom party set to make significant gains.