Cannes film festival welcomes Palme d'Or jury
Comments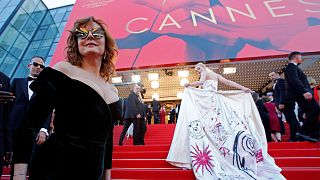 The jury were welcomed with a festive and musical atmosphere for 70th edition of the Cannes Film Festival, chaired this year by the Spanish director Pedro Almodovar.
The filmmaker was surrounded by beautiful people such as American actors Will Smith and Jessica Chastain, but also seasoned filmmakers like Paolo Sorentino and Park-Chon Woo.
The jurors will have to pick from 19 films in the running for the prestigious Palme d'or on 28 May.
Para el 70º aniversario de la Palma de Oro de Cannes la casa Chopard ha hecho esta edición especial con diamantes. Foto:AFP Fabrice COFFRINIpic.twitter.com/K4jPhTEgtb

— Rafael Muñoz

RTVE

(@munoz_rafa) 27 April 2017
Will Smith set the mood from the top of the steps to the beat of "Get down on it!"
The opening film was not in the competition. It was a French picture by Arnaud Desplechins which had already featured several times at Cannes. It boasts a star studded cast, with Mathieu Amalric accompanied by Marion Cotillard, Charlotte Gainsbourg and Louis Garrel.
Marion Cotillard arrives on May 17, 2017 for the screening of their film 'Ismael's Ghosts' during the opening ceremony of Cannes pic.twitter.com/0II85K9GrC

— Marcelo Córdova (@marcelocordova) May 17, 2017
The film was rather well-received by the press, although reviews were mixed.
The film centres on Ismaël Vuillard, a film maker whose life is sent into a tailspin by the return of an old flame, Carlotta, who had disappeared two decades before.
He is about to embark on a new project, a portrait of a strange diplomat named Ivan, but his sense of reason slowly begins to waver as his companion, Sylvia, leaves him. He leaves the set to rediscover his family home in Roubaix, where he is set upon by ghosts from his past.
The 70th edition of the Cannes Film Festival has well and truly kicked off with a deep, sensitive film about love, illuminated by the presence of two world-class actresses, Charlotte Gainsburg and Marion Cotillard.
The competition lasts twelve days, when films from all continents will be projected onto the silver screen and the world's biggest stars will walk the red carpet.